About me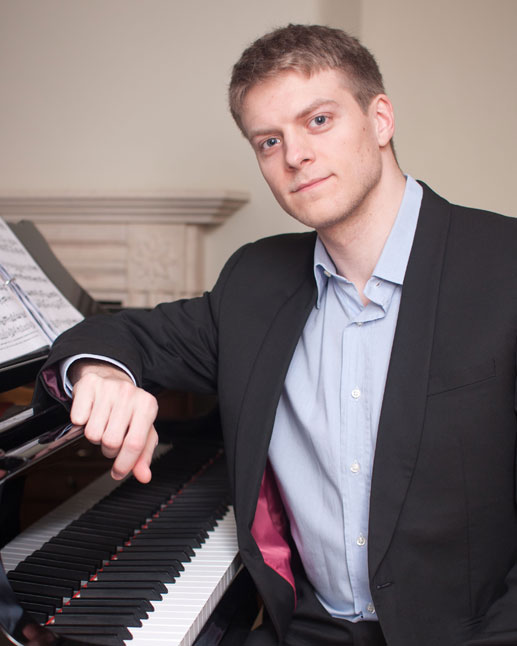 André Laplante
- "absolutely beautiful playing"
Erica Worth
- Editor, Pianist Magazine – "that Liszt...wow!"
Gary Yershon
- Oscar-nominated film composer – "Chris is both a superb pianist and a sensitive accompanist."
John Humphreys
- former teacher and chairman of the Dudley International Piano Competition – "A powerful piano technique always used in the service of the music."

Chris Hotson is a pianist, piano teacher, ballet pianist and accompanist based in London. In a wide-ranging career, Chris teaches and accompanies at three schools in South-west London, plays for the Royal Academy of Dance, works freelance as an accompanist, and is often found performing in chamber concerts – most regularly with duo partner Anna Ovsyanikova.

Past performances include a May 2019 concert at the Royal Opera House (in the Linbury Theatre), a duo recital with Oscar-nominated composer Gary Yershon (composer of the soundtrack for Mr. Turner), a concert tour to Boston, USA with the Ismena Collective, and concerto performances of Rachmaninov's 3rd Piano Concerto in England and the USA. Chris was awarded 2nd prize in the annual Concerto Competition at the Crane School of Music, NY, where he attained his Masters degree in piano performance (studying with a scholarship and a graduate assistantship in accompaniment). He was the only piano finalist in the Central England Ensemble Concerto Competition and – as an undergraduate student of Malcolm Wilson and John Humphreys at Birmingham Conservatoire – the winner of the Beryl Chempin Beethoven Prize for Pianists, the Marjorie Hazlehurst Piano Award and the Miss Bowen Challenge Cup. He was also the only undergraduate to reach the finals of the Birmingham Conservatoire Piano Prize.

Whilst at Birmingham he was selected to play in masterclasses for Peter Donohoe CBE, Mikhael Kazakevich, Daniel Hoexter, and Martin Jones amongst others, and was also selected to represent the Conservatoire in the contemporary music field, performing for Louis Andriessen and Frederic Rzewski in festivals dedicated to them. He has had two pieces dedicated to him by British composer Stephen Mark Barchan.

Following his graduation from Crane, Chris was granted a scholarship to study with his favourite living pianist of many years – André Laplante – at the Orford summer programme in Canada.

Before coming to London, Chris joined the music staff at the Prince of Wales Island International School in Penang, Malaysia, where he helped set up and teach new GCSE and A-level music programmes, taught piano, and oversaw the purchase of several new pianos at the school including a Steinway Concert Grand.

Outside of music, Chris is a keen cyclist and a lover of 'the great outdoors'.
Follow me on
Facebook
or on
Twitter
to stay updated on concert dates, online media, and other relevant news.
For more, do take a look at youtube.com/chrishotson and soundcloud.com/chris-hotson.
Please feel free to send me a message on Facebook or Twitter: